The University of Phoenix (UofPX) is a private, for-profit institution that has focused on the needs of adult learners who require flexibility and ease while attending college and juggling multiple responsibilities for over 40 years. It serves over 85,800 students globally — the majority of which are undergraduates. UofPX has a high student-to-faculty ratio of 92:1, and nearly all its students attend online.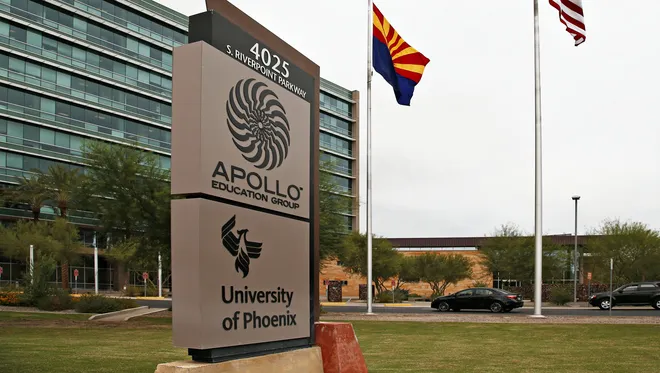 FAQs About the University of Phoenix
Is the University of Phoenix 100% Online? Are its Online Degrees Legitimate?
---
UofPX is 100% online, and the school offers online degrees in nine subject areas, such as business, education, and healthcare — including at the certificate, undergraduate, and graduate levels. While it does have brick-and-mortar campuses, they are no longer enrolling students. UoPX offers over 60 undergraduate fields of study in popular majors, such as accounting, communication, elementary education, health administration, and applied psychology. Online master's degrees are offered in majors such as public administration, nurse education, and cybersecurity.
UofPX's online degrees are legitimate because they come from an accredited institution. UofPX is accredited by the Higher Learning Commission, an institutional accreditation agency recognized by the U.S. Department of Education. Accreditation signifies that a U.S. Department of Education-recognized agency periodically reviews a school's fiscal policies to ensure they are ethical and that it offers high-quality academic programs.
What Is the University of Phoenix Known For?
---
For over 40 years, UofPX has been known for increasing accessibility to higher education. Its academic terms are shorter than average, often lasting only a few weeks, enabling some students to finish their education quickly. It offers scheduling flexibility for non-traditional students over 22 who are eager to continue their education while balancing multiple responsibilities and commitments.
While UofPX has experienced some notable controversy, its continued accreditation by the HCL confirms that the university is working hard to keep its promises to students. UofPX is committed to providing academic rigor that meets employer and industry demands. It continues to prove that it's handling its finances responsibly and keeping its students' needs in mind.
Is the University of Phoenix Closing?
---
UofPX is not closing or ending its programs. However, it no longer enrolls students on campus. According to the Sacramento Business Journal, UofPX will close all its physical campuses except its Phoenix location by 2025 as it fully transitions to online learning.
Which Degrees at UoPX Provide the Highest Earnings for Graduates?
---
UofPX's online bachelor's degrees in nursing and computer information sciences provide the highest earnings for graduates, according to College Scorecard data. Alumni earn median annual salaries of approximately $95,500 and $67,800, respectively.
Another way to determine earning potential is OnlineU's proprietary Salary Score, which ranks colleges by how much their alumni earn compared to graduates across the country with the same degree. UofPX's has a salary score of 72 out of 100 for its bachelor's degrees and a score of 32 for its master's degrees.
How Difficult Is It To Get Into UoPX?
---
It is not difficult to get into UofPX. It has an open admissions policy, which means that it accepts 100% of applicants. Additionally, UofPX does not require entrance exams, such as the SAT, ACT, or GMAT, which can alleviate some of the stress of applying and makes earning a degree more accessible.
What Are the Admission Requirements for UoPX?
---
UofPX's admission requirements are minimal, which makes applying to college relatively easy. Eligibility at UofPX requires being at least 16 years old and a high school graduate (or an equivalent). Also, if an applicant has been expelled from a previous institution, they are ineligible. Applicants must also be U.S. citizens, permanent residents, or hold a valid visa.
Undergraduate applicants are required to submit the following once eligibility is confirmed:
A completed free online application
Official high school transcripts or GED
Official college or military transcripts, if applicable
Graduate-level applicants may have additional requirements, depending on their course of study. A UofPX enrollment representative can answer questions and help with the enrollment process.
Our list of the most popular online colleges provides additional options if you're still deciding.